This member does a fantastic job of participating and she was right alongside us at Nationals. She has so much love for Cory Monteith, she even made an account dedicated to him and Glee. She knows the character he plays has flaws, but she's always in his corner, and I really admire that.
The Finn Appreciation Award goes to...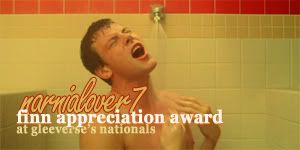 narnialover7
/Rebecca! Enjoy your dose of half-naked Cory!
An award I won in Team Teachers for gleeverse nationals. Really love this award soooo much. Thank you soooo much Lily
burntheflaws
for this award. :-)